As written and released by the Winston-Salem Chamber of Commerce's Ethanie Good, published May 24, 2019. Original HERE.
"On Thursday morning we will celebrate innovation in Winston-Salem with the launch of SWIPE.BY, a new app available on Android and iOS, that brings the convenience of curbside service to many local Winston-Salem restaurants. Users place an order online, drive to the restaurant and a server brings their food right to their car.
SWIPE.BY Ribbon Cutting at The Loop, Thruway Shopping Center
Thursday, May 30 | 11:30am
SWIPE.BY was founded by Carl Turner, who came from Berlin, Germany to Winston-Salem in 2013 to study at Wake Forest University. He founded the company in 2017 right after graduation. Turner says, "Third-party food delivery in suburban markets like Winston-Salem can be expensive to the user and can result in long wait times and cold food – dissatisfying experiences which can translate into complaints to the restaurant. Considering the high revenue shares to these delivery platforms, we knew there had to be a better solution for restaurants." SWIPE.BY charges the restaurant a lower fee and the customer nothing (no fees, no subscription).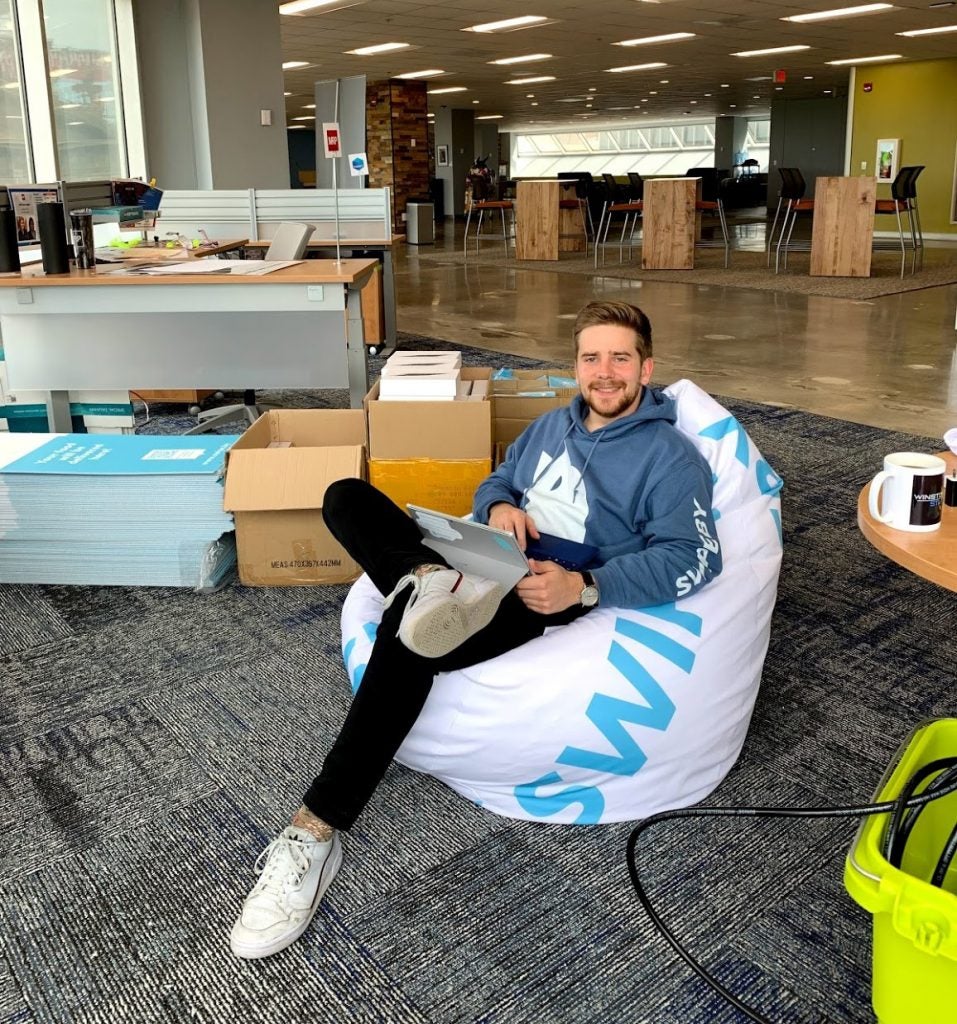 SWIPE.BY is a product of a growing supportive entrepreneurial ecosystem in Winston-Salem. Carl graduated with a minor in Entrepreneurship from Wake Forest, then joined Flywheel and the Winston Salem Chamber to get initial support and networking. SWIPE.BY is now one of the first cohort companies out of the Winston Starts incubator.
Steve Lineberger, president of Winston Starts says "The entire Winston Starts family is very excited for SWIPE.BY and Carl Turner. Startup activity is definitely on the rise in Winston-Salem and SWIPE.BY is a wonderful example of a promising homegrown tech company founded by a bright young entrepreneur."
"Winston-Salem has been very supportive and contributed a lot to our success." Turner says. "It's incredible how the ecosystem comes together to support us founders. I further think the city is underestimated as a launch place for consumer tech – we have a dense downtown and a broad suburban area, we have big companies and many smaller local businesses – it's great to test and get started here".
Peter Marsh, founding partner at Flywheel says "Today is a big day not only for SWIPE.BY, but also for the startup community in the Triad. This is a real value-add for local restaurants, extending their customer reach and experience. Carl is a tenacious entrepreneur with a dedicated team. Wake Forest referred him to us at Flywheel and we were able to help him refine his business model and connect him with investors. SWIPE.BY graduated from coaching at Flywheel to acceptance into Winston Starts, proving the power of our ecosystem."
The Loop, one of SWIPE.BY's participating restaurants, is offering 25% off all entrees after the ribbon cutting. Mike Targett, owner of The Loop says "SWIPE.BY adds another avenue of convenience and service to our guests while maintaining control on our side. We stay in charge from making the food to bringing it to the guest.
About SWIPE BY:
SWIPE.BY is a startup founded in Winston Salem, NC, by a Wake Forest University graduate. SWIPE BY is available as an iOS and Android app and allows a user to place a Curbside Service or In-Store Pick-Up order at many local restaurants. SWIPE.BY also offers a more visual approach to food ordering allowing a customer to swipe through a picture-based menu of local restaurants, filtering for distance, price, cuisine, etc. SWIPE.BY is part of the Winston Starts incubator and is planning on expanding nationally after a successful launch in its home market of Winston-Salem. http://www.swipe.by "
The Winston-Salem Ambassadors offer a heartfelt and excited CONGRATULATIONS to SWIPE.BY!